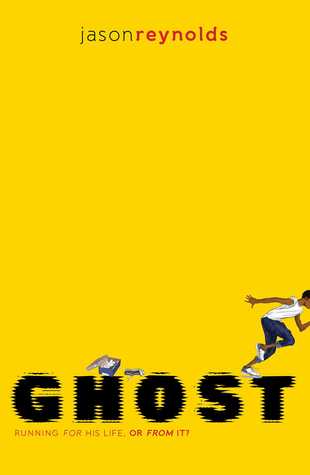 Rating: 5 of 5 stars
Length: 192 pages
Published: August 2016
Ghost is my second Jason Reynolds read. I read Long Way Down earlier this year. I thoroughly enjoyed that book, rating it a solid 5, and Ghost was even better, but since my rating system only goes up to 5, let's just call it a 5+. Before I get further into my review, I'd like to thank the Fort Worth Library for this borrowed copy. Support your local library.
In my opinion, this book was absolutely perfect. Books don't normally make me cry, but this one did, not necessarily because it is sad, but rather because it evokes so much emotion. The characters are real and the writing is spot on, creating vivid imagery for the reader.
Ghost is the nickname of Castle Cranshaw, a middle school-aged boy who inadvertently joins the community track team, The Defenders. He challenges one of the new team members to a race where the coach notices he has natural running talent. Later, we learn that not only is Ghost running for sport, he's also running from some personal demons - issues that most children this age face, but some heavier than being bullied at school.
The book also highlights several other characters who are on the track team, allowing Reynolds to set up Ghost as the first book in a series of books featuring these characters. I don't read a lot of young adult fiction. I don't always enjoy reading series (too much of a commitment), but this one was so good! I'm invested to check out the others. Stay tuned for future reviews!
Recommendation

: I absolutely adored this story. Reynolds is becoming one of my favorite authors (even though I may not be his target audience). I think young and old alike can appreciate the author's ability to craft a beautifully real and engaging story. Ghost is a part of PBS' Great American Read. If you love Ghost as much as I did, be sure to give it a vote!
Author Jason Reynolds reading Chapter 1 of Ghost
Until next time ... Read on!
Regardless of whether I purchase a book, borrow a book, or receive a book in exchange for review, my ultimate goal is to be honest, fair, and constructive. I hope you've found this review helpful.