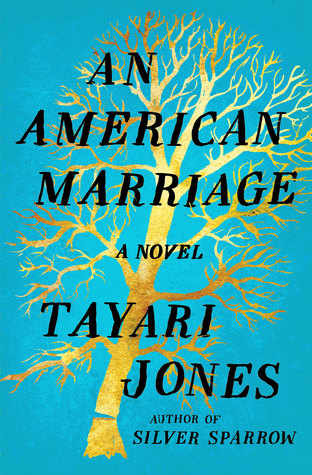 Rating: 5 of 5 stars
Length: 308 pages
Published: February 2018
An American Marriage by Tayari Jones was chosen as the August selection by a Goodreads Group I am a part of - Literary Fiction by People of Color. I wanted to read this book for some time, so this gave me the perfect excuse. I attempted to read this book while in the middle of another, but this one quickly took top billing as it grabbed me from the beginning, and in all honesty, still hasn't let go. I finished this book two days ago and am still thinking about it.
This beautifully written tale is about a young, newly married African American couple - Roy and Celestial. While visiting family in Louisiana, Roy is arrested and wrongly convicted of a horrific crime. The remaining three-fourths of the book is about the after effects of his case and imprisonment.
In this story, Jones not only personalizes mass incarceration and its far-reaching effects but she also shares the human experience through an African American lens. Her book was so real to me, and it made me feel all sorts of emotions. Part of the book takes an epistolary format where Roy simply writes these complicated love letters to Celestial. The letters demonstrate so much more - a longing for someone and something once had but so unjustly ripped away. The prose, the dialogue, and the imagery make this book.
Overall, I enjoyed the story and the journey to the satisfying yet imperfect ending. While I didn't find Celestial to be a likable character, her actions and motives seemed realistic considering the circumstances. There are a few weak points in the plot (e.g., DNA testing), but not enough to take away from what Jones has accomplished with this wonderful piece of literature.
My review cannot do this book justice. Please get a copy and see for yourself. Thank you to the Grand Prairie Library for allowing me to borrow this book through the Hoopla app!
Recommendation

:
Much like the abhorrent slave trade, Roy lost his wife, his family, and in some ways his soul. I think part of the author's motivation was to change the way we think about the "justice" system. What she created was a thought-provoking tale that left me with a beautiful ache. I hope you take the time to read this book. It is outstanding. Get intrigued by the plot, but please don't miss the message.
Until next time ... Read on!
Regardless of whether I purchase a book, borrow a book, or receive a book in exchange for review, my ultimate goal is to be honest, fair, and constructive. I hope you've found this review helpful.