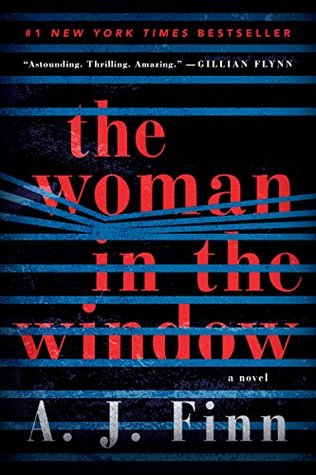 Rating: 4 of 5 stars
Length: 449 pages
Published: January 2018
I took advantage of a June ebook sale and grabbed a copy of A.J. Finn's The Woman in the Window from the Amazon Kindle store. Since its publication, I'd seen this psychological thriller advertised on all the on-and-offline bookish places I visit. It was nominated for my book club's mystery/suspense read but did not win. So, I was really excited to get some time to read it this summer - and at a discount to boot!
The story is about poor ole Dr. Anna Fox who is suffering from a pretty extreme case of agoraphobia. While at home, she witnesses something sinister in her neighbor's home across the street through ... you guessed it ... the window. The book is told from Anna's point-of-view, and as the reader discovers more about this protagonist her account of what she witnessed becomes less reliable. Her mental health condition, coupled with the physical trauma that caused it, and a cast of dynamic supporting characters that serve as red herrings throughout the novel make this a true page-turning mystery for the reader.
Overall, I enjoyed this book. It moved along at a good pace, and Anna was a well-developed character. I liked that she was kind of the winner and loser of her own story. Her flaws made her character realistic. There were some elements that were predictable. The bit we learn about Anna's family read like a scene from the movie The Sixth Sense. I do wonder if Mr. Finn is vying for a movie adaptation. [As an aside, it does bother me a bit when I feel like the author is writing for the book to become a movie.] But I digress. I do think the part about Anna's family was supposed to be a plot twist, but I don't know how successful it was. I saw it coming from at least 30 chapters away.
And speaking of chapters, I found the book's structure odd. There were 100 chapters in this relatively short book. Some of the chapters were barely a page long. To me, a page does not a chapter make. Also, the present date preceded each section of chapters in chronological order, which I did appreciate. However, Anna had several flashbacks throughout the story and there were no date markers for those flashbacks. So, sometimes I would be a few sentences in before I realized that she wasn't narrating the present day. It caused a little confusion as did the interspersed dialogue from the old black and white movies Anna enjoyed watching. After finishing the book, I do wonder if this was intentional to give the reader a feel for how disoriented/disconnected (read: drunk and high on psych meds) Anna was.
Mystery is becoming one of my favorite sub-genres of fiction, and
The Woman in the Window
fit the bill. If you enjoyed Paula Hawkins'
The Girl on the Train
or
Gone Girl
by Gillian Flynn, you will probably enjoy this book. It has a similar tone and pace. All of these books have been on the market for awhile so you can probably borrow a copy of all three from your local library to compare!
Recommendation

: If you enjoy a suspense-filled novel that keeps you on your toes, this would be a good one to add to your summer reading plan. If you check it out, come back here and let me know who is "the woman" in the window to which the title refers?
Until next time ... Read on!
Regardless of whether I purchase a book, borrow a book, or receive a book in exchange for review, my ultimate goal is to be honest, fair, and constructive. I hope you've found this review helpful.