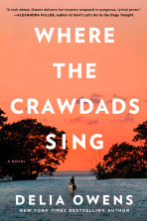 Rating: 4.5+ of 5 stars
Length: 325 pages
Published: August 2018
The majority of the members in my bookish groups had been telling me to run, not walk, to the nearest library or bookstore and get Delia Owens' Where the Crawdads Sing. As luck would have it, I was able to get on the list at my local library and the ebook became available ... about six hours before Fredrik Backman's Beartown also became available, so I dug in right away.
Where the Crawdads Sing is a coming of age story about Kya Clark who, at a young age, was abandoned by her family. We learn of her tale of survival through a chronological telling from age 6 through young adulthood. The book's setting alternates between this historical, biographical backdrop in the 1950s and 1960s and a more present day decade of the 1970s. In this more recent timeline, the reader learns that Chase Andrews, the town's heartthrob, has been found dead and probably murdered. From there, the story vacillates between the two time periods until they converge on the pinnacle point of the mysterious death.
This story has everything: great writing, a compelling plot, mystery, suspense, and romance. Ms. Owens is a talented writer creating powerful imagery of the marsh and swamplands of the North Carolina coast. She does such a great job depicting scenes in her novel that I felt like I was there. Owens writes in such a way that the reader can't help but be transported to the very time and place in which she is describing. This book and this author's writing is a true illustration of what readers mean when they say books can take you places you've never been before. Additionally, the suspenseful elements of the book propel the reader forward.
The book had a little bit of a slow start for me (hence the rating just shy of 5 stars), but the momentum
quickly picked up and didn't let me go until the surprising, plot twist-filled conclusion.
Recommendation
: I was pressed for time on this book because I needed to get to my next ebook loan; however, I suspect that I would have devoured it without a deadline just the same.
Do yourself a favor and travel to North Carolina through Ms. Owens' words. Run, don't walk, and pick up a copy of
Where the Crawdads Sing
today!
Until next time ... Read on!
Regardless of whether I purchase a book, borrow a book, or receive a book in exchange for review, my ultimate goal is to be honest, fair, and constructive. I hope you've found this review helpful.