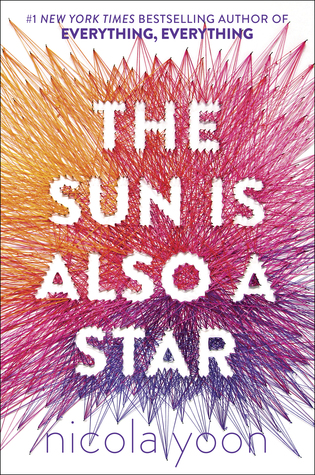 Image Credit: goodreads.com
Rating
: 4 of 5 stars
The Sun is Also a Star
is a young adult novel by Nicola Yoon in which the bulk of the story takes place over the course of one day. Jamaican-born, straight-laced, facts-and-figures Natasha, her parents, and brother are on the verge of deportation from the United States. On her last day in New York, she meets Korean-American, dreamer, and poet, Daniel.
Whether fate, chance, or something more, the two high schoolers who were once strangers end up spending the day together learning more about themselves, each other, and the (sometimes, harsh) realities that result from their interactions.
This was a quick read that garnered a varied emotional response from me. Each chapter is told from a different character's perspective. Intermixed with the narratives are some well-researched topics about Jamaican, Korean, and North American cultures. The author did a splendid job of taking a fairly deep topic and making it easily digestable for the intended audience. For most people, the teen years are often wrought with emotions and uncertainties of who we are and who we will become. I think Yoon did an excellent job of illustrating those feelings in her book.
Sometimes a book finds us at just the right time, and this was an uplifting book that I needed to read. It didn't hurt that I'm a sucker for romance! While this is my first read by this author, it is her second novel. Her first,
Everything, Everything
, is set to debut on the big screen in May of this year, starring Amandla Stenberg.
Recommendation
: If you're looking for a fun read that will make you think, smile, and maybe even cry a little, this is a good selection.
Until next time ... Read on!