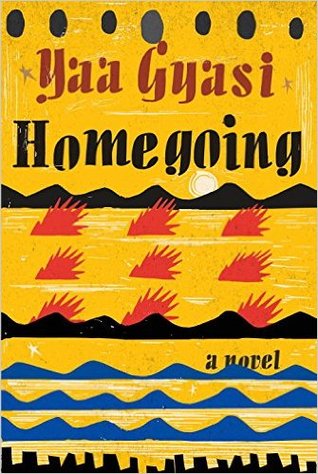 Image Credit: goodreads.com
Rating
: 5 of 5 stars
This is what I call a solid
debut
! Yaa Gyasi's
Homegoing
was a wonderful read that spoke to my soul. Not because it was a story about slavery, necessarily, but rather one about family.
Secondary to the familial theme was the author's documentation of the African and black American cultures. Her work is proof that knowledge and maturity do not necessarily correspond with age. If this work is indicative of her budding career, I would bet she will have a long and successful one as a writer.
Homegoing
is about two half-sisters born in Ghana and later separated from their homeland as a result of circumstances beyond each one's control. From the 1700s to present-day, we learn about each sister's fate and their lineage. Effia marries a British slaver while Esi becomes a slave shipped off to the U.S. From there, each chapter focuses on one person from the next generation, alternating between Effia's and Esi's respective families.
My only complaint about this novel is, because of the structure, the family tree that is printed in the front of the book is required for understanding. This might make it a little more difficult for those who choose the audio book and do not have the ability to refer back to the family tree.
The descriptive writing, the careful detail, and the honor to the culture are all factors in my rating. I thoroughly enjoyed the book. I do believe we write what we know, and that is typically what resonates with us as readers too. Gyasi has done a fine job, and I look forward to reading more of her work.
Recommendation
: Even though this book tackles difficult topics, it does it in a way that makes it an easy read. I highly recommend it for those seeking to read about the African slave trade from a different perspective.
Until next time ... Read on!