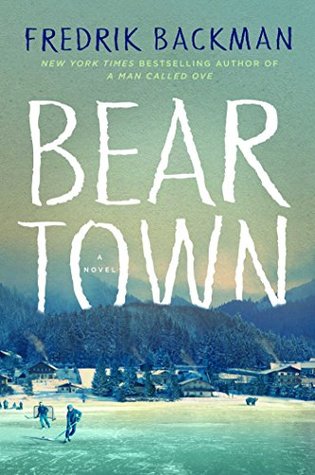 Rating: 4.5 of 5 stars
Length: 432 pages
Published: April 2017
Beartown by Fredrik Backman is about a fictional town in Sweden where the boy's hockey team is the nucleus of the community. The players, the staff, the parents, and the residents all are invested in the sport and the team because hockey has touched them all in some way - whether in the past or present times. And beyond hockey, there isn't much going on in this town ... until there is. A tragic decision made by the star player shatters the life of a young girl and transforms the town forever.
Beartown is a story about division and the major events that divide families, friends, and an entire town. Backman sets up examples of this theme through the illustration of several dichotomies of character pairings. There are about two dozen characters in this book that all play a role in the book's forward-moving plot. You'd think with that many characters, the reader might get confused. Quite the contrary, the author does an excellent job of setting up the characters and the plot in the first half of the book that you, as the reader, get the feeling that he's sharing information about people who could live in your community. Backman does a superb job of developing these characters so that everyone is equally represented and their role in the story is executed perfectly.
The only thing I did not care of in this book was the quick jumping from one character to the next as a literary device to reveal events and the timeline of the story. On many occasions the story was told in small paragraph vignettes, and I would have preferred more cohesive scenes developed within longer written passages. That is my only reason for the less than 5-star rating.
I've read most all of Backman's novels and novellas. As usual, he won me over with his prose. He has a writing style that digs deep in my soul and hangs on tight for many days after the story ends. However, I won't have much time to recover from this one. The Beartown sequel, Us Against You, was readily available at my local library at the time I finished this book, and I've already borrowed it!
Recommendation
: Backman took on a darker topic with Beartown, but he handled it well. This story will give you all the feels. Get your copy today, and get emotionally invested in this intriguing cast of characters.
Other Fredrik Backman books I've reviewed on A Page Before Bedtime:
A Man Called Ove
My Grandmother Asked me to Tell You She's Sorry
Britt-Marie was Here
And Every Morning the Way Home gets Longer and Longer
Until next time ... Read on!
Regardless of whether I purchase a book, borrow a book, or receive a book in exchange for review, my ultimate goal is to be honest, fair, and constructive. I hope you've found this review helpful.