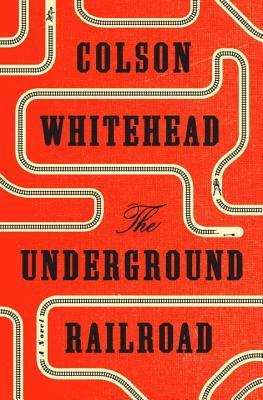 Image: goodreads.com
Rating
: 5 of 5 stars
One of two Oprah 2.0 book club sections this fall,
The Underground Railroad
by Colson Whitehead is a historical fiction account set during the pre-Civil war era. Before I delve into my review, I will preface my forthcoming comments with this: I will
not
be able to compose a review that does this book justice. This is my first exposure to Whitehead's craft, and I find his vividly creative prose simply stunning. I hope to one day write half as well as he does. Furthermore, I am sure my review means about .25 of a cent compared to what media mogul Oprah Winfrey had to say about it. But it's one of my favorite books of 2016, so I will attempt to convey my awe in this brief review in my little space in the blogosphere.
The story's protagonist, Cora, is a young field slave forced to work a vicious plantation in Georgia. Motivated by a fellow slave, Caesar, and inspired by the mother who abandoned her in search for her own freedom, Cora, too, decides to run. The book progresses with Cora traveling from state-to-state on a literal railroad underground. Each stop offers an opportunity for the author to capture racial inequities and subjugations through historical storytelling. Driven by a piercing curiosity of her mother's fate and burning desire for freedom, Cora discovers
"the true face of America"
through her travels. Through every page Cora, as well as the reader, hopes that her ticket on this railroad is not round trip, and both Cora and the reader learn that captivity extends beyond shackles and chains.
The gem in this book is, although it's set over 100 years ago, the themes are real and relevant today. People get tired of being mistreated and abused and just decide to do something. Each action, in an attempt to move society - sometimes begrudgingly - forward. At it's core, this book is a demonstration of what real-life rabble rousers did then and still do today - They say this is enough, and I am going to do my part to change the course by changing my story. After reading this book and examining the disparities in how people of color are treated today, it begs the question - how far have we really come? How do we move forward without looking back, and should we? And will we ever truly be free?
Recommendation
: I would definitely recommend this book. Most of what I've learned about American history (read: American, not African-American) has come post-education. While this is a work of fiction, it is a nice supplement to my quest for knowledge. Please note it depicts the atrocities of the time, so it the illustrations are vivid, graphic, and extremely violent.
Until next time ... Read on!