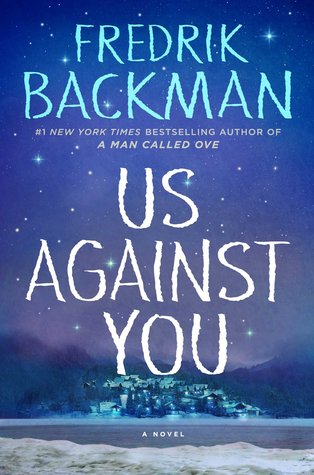 Rating: 4.5 of 5 stars
Length: 448 pages
Published: June 2018
Us Against You is the second book in the series by Fredrik Backman surrounding a small, fictional hockey town in Sweden - Beartown. Beartown is the first book in the series. Us Against You picks up just a few months after the plot of Beartown. The local hockey team is the center of the town, and both the town and hockey team are trying to rebuild after a tragic event that occurred between a hockey player and the team manager's daughter. Us Against You is about this community healing and moving forward from the events of the first book.
Us Against You is very similar to Beartown in its themes and style. They are both stories about division, hiding from oneself, and learning how to overcome the obstacle of public shame. As usual, Backman does a lovely job with his writing. He creates tension and tells a compelling story that propels the reader deep into his narrative.
I enjoyed the second book a little more than the first because it rounds out the overall plot, ending on a hopeful note. However, I must admit, I am hoping for a third book set 10 years in the future so I can learn more about how the characters, especially the children, mature as adults. If you couldn't tell, I've become emotionally invested in these characters and their respective stories.
This was a quick and enjoyable read. I felt it most necessary to read after completing Beartown.
Recommendation
: I'd definitely recommend this book to Backman fans, literary fiction readers, and if you've read Beartown you must read Us Against You.
Other Fredrik Backman books I've reviewed on A Page Before Bedtime:
Beartown
A Man Called Ove
My Grandmother Asked me to Tell You She's Sorry
Britt-Marie was Here
And Every Morning the Way Home gets Longer and Longer
Until next time ... Read on!
Regardless of whether I purchase a book, borrow a book, or receive a book in exchange for review, my ultimate goal is to be honest, fair, and constructive. I hope you've found this review helpful.